When: June 7, 2019, 9:00 PM (EDT)
Where: Oracle Arena, Oakland, California
Watch Live: ABC
Something rare happened in the last game between the Warriors and Raptors Game 3 of NBA Finals as the Warriors lost a home game and Klay Thompson was not in Warriors lineup in playoffs for the first time. Warriors lost the last match from Raptors by 124-109.
Having said this, we are now looking for Game 4 of the NBA finals when Warriors will host Raptors for another game at Oracle Arena on Saturday night action.
Let's talk numbers here starting with Raptors as they were led by Kawhi who scored 30 points, seven boards and six assists along with Kyle Lowry who had 23 points with nine assists. Pascal Siakam had 18 points, nine boards and six assists, Danny Green had 18 points, and Marc Gasol had 17 point and seven boards. Fred VanVleet had 11 points off the bench.
For the Warriors, Curry had a monstrous night as he exploded with 47 points, eight rebounds and seven assists in 43 minutes of playing time. Next highest was Draymond Green who had 17 points, and seven boards and Iguodala had 11 points with six boards. No one except these three players scored in double digits and this where Warriors lagged behind the Raptors team.
Warriors displayed a miserable shooting night with the standards of a champion team as they made just 36 of 91 shot attempts which counts to 39.6% shooting overall compared to the Raptors who made 42 of the 82 attempted shots which count to an excellent 52.4% shooting. A similar trend was there in a 3-point shooting where Warriors made just 12 of 36 attempted 3-point shots which counts to 33.3% shooting compared to Raptors who made 17 of 38 attempted 3-point shots.
Another thing that went well for the Raptors was their defence on the Warriors as they managed to get beautiful block shots in the game compared to just three block shots from the Warriors team. Raptors also managed to get nine steals from the Warriors in the game.
Even though Stephen Curry had on the best playoffs performances this season, but it still wasn't enough for carrying his team to a victory. Kevin Durant and Klay Thompson's absence was seen in the Warriors offence as they had to play Bogut and undersized Quinn Cook for longer stretches. Also, Looney was injured in Game 2, and he also did not play in Game 3.
Good News for the Warriors is that Klay is cleared to play in Game 4, but Durant is again ruled out for Game 4. Return of Thompson will bring Warriors in good shape on both ends of the floor, but the question is what will this be enough for the Warriors to again level this series before heading towards Toronto once again.
Warriors to beat Raptors
Predicted Starting Lineup: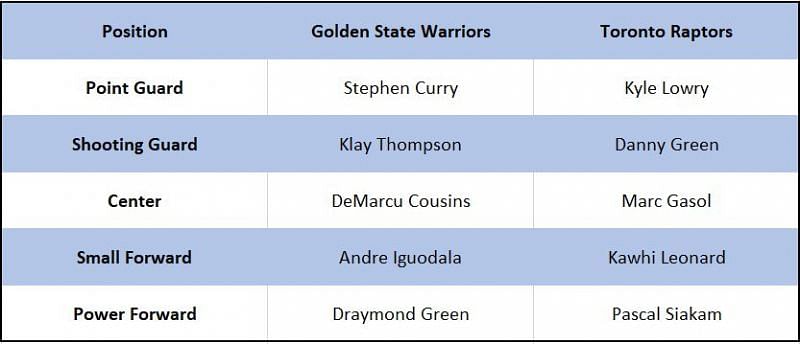 Dream11 Team:
​