When: Sunday, June 2nd, 2019 at 8:00 pm ET
Where: Scotiabank Arena, Toronto, Ontario
Watch Live: ABC
Toronto Raptors are all set to host Game 2 of the NBA finals to play against defending champs Golden State Warriors on Sunday night at Scotiabank Arena, Toronto. The Raptors lead the series by 1-0 with a score of 118-109, and it will be interesting to see how the Warriors plan to even the series and the Raptors wanting to make the lead even stronger.
Let's begin with the score updates from last game. For the Raptors, Pascal Siakam led the squad with career-high 32 points, eight rebounds and five assists, Kawhi scored 23 points, eight rebounds and five assists, Marc Gasol had 20 points with seven rebounds and Fred VanVleet finished with 15 points in 33 minutes off the bench.
For the Warriors, Stephen Curry lead the pack with 34 points, five rebounds and assists each, Klay Thompson had 21 points and five rebounds, Draymond notched a triple-double with 10 points, ten rebounds and ten assists.
The Raptors defenders gave a hard time to Warriors offence and limited their shooting to be at nearly 43% and 3-points shooting at almost 39%. Due to the defensive pressure from the Raptors, Warriors committed 16 turnovers out of which ten already happened in the first half to give Raptors a 10 point lead. Also, the Raptors had six block shots in the game compared to just two from the Warriors.
The key players did well for both the teams, but it was the role of supporting cast for the Raptors that outscored the one from Warriors. Except for Curry, Klay and Draymond, no one had double-digit points and will be a crucial thing to note here of the Warriors wants to take the game to an equal level.
It's getting difficult for the warriors to get hold of the game without Kevin Durant in the lineup and few other injuries. Durant missed the Game 1 and is out for Game 2 also. DeMarcus Cousins was given just 8 minutes of playing, and it will be interesting to see what coach Kerr decides on this for Game 2.
The Warriors are almost unbeaten in the openers, and Toronto has done a great job in defying that with an overall team effort. I expect the Warriors' supporting cast to play harder as they enter into Game 2 of the NBA finals and help the key players. While for Raptors it's yet another home game which hey will try to snatch from the Warriors. Warriors will come out firing after the loss, but Raptors have shown that together they belong and I think they will escape this one too.
Raptors to beat the Warriors.
Predicted Starting Lineups: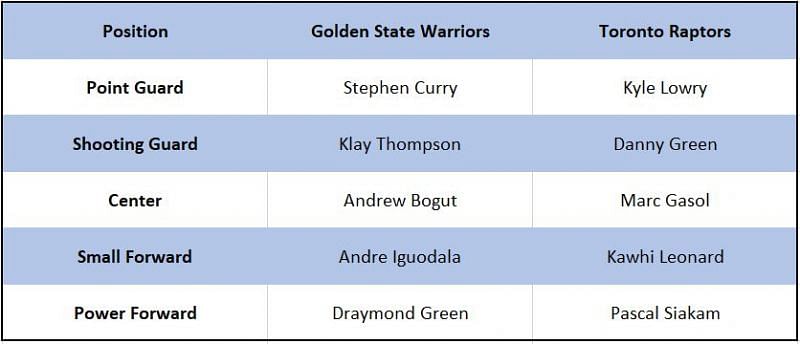 Dream 11 Team: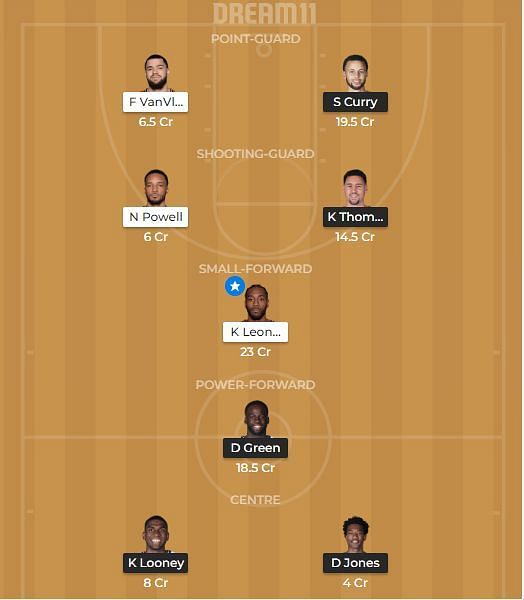 ​